Bo Weevil has been at the base of certified organic cotton and has made an important contribution to a more sustainable world. Now, 25 years later, we aim to make a continuing contribution by increasing the availability and accessibility of organic cotton.  Easy to obtain, fashionable and affordable.
To accomplish this broad availability we stock a large range of fabrics made of organic cotton, organic linen or a blend of both. Fabrics of  superb quality. All stocked in the Netherlands, so if ordered today, it is sent tomorrow.  
Besides supply of fabrics, we are able to manage the production of your collection. You design, we take care of the production, packaging and transportation. At a low minimum of 300 pcs. Finally, we offer a range of basic products from stock like T-shirts, bags, towels and bathrobes.

GOTS 
All fabrics and products of Bo Weevil are GOTS certified. This certification ensures the organic status of textile, through the entire supply chain; no pesticides or fertilizers are used during growing, only by GOTS approved dye stuff is used for dyeing as well as printing. And on top of that the goods are produced in decent working conditions.


Iris Komen 
Obtained a BsC from Tech College 'De Maere'  in Enschede and followed the shortened curriculum for International Technology Development at Eindhoven Technical University. She subsequently joined a designer label for men, but in the end decided to follow her heart and go to Africa. In Congo she worked in a textile factory and taught sewing techniques in an orphanage. 
After her Africa adventure and several jobs with textile companies she first joined Bo Weevil in 2003. In 2008 she left to work as a purchaser for Fair Trade Original, but in 2014 her heart led her back again to Bo Weevil. In October 2014, she became the proud owner of this 25-year old company. You can now find her in Bo Weevil's brand new office in Nieuwegein.
 
Jan Schrijver 
Realized his dream in the early eighties and started his own projects to source ecological cotton in Turkey. In a time when hardly anybody believed ecological cotton had a future, he started Bo Weevil BV (named after the friendly cotton beetle) and was the first to bring certified eco-cotton clothing onto the Dutch market.  His vision proofed to be right, as the popularity of eco-cotton clothing has boomed in recent years.
Thanks to another one of Jan's cotton projects, 5000 Uganda farmers and their families had a stable income for 10 years in a row. Jan's vision on sustainability and fair trade form the rock-solid basis on which Bo Weevil was built and continues to operate.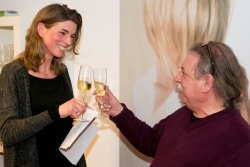 Iris and Jan


Gonny Jeths
Won the lottery five years ago, quit her job, and pursued her dream: she started her own store in sustainable fair-trade clothing. In a few years, she grew Sincero Fair Fashion from scratch into a successful company with a solid customer base. In her regular news letters she shed a light on the bright and the not-so-bright sides of international textile. Five years later she felt it was time to move on to new things and she closed up her store. She ran into Iris while looking for new things to do. It didn't take long before she became indispensable to Bo Weevil in many ways, helping wherever she can and running Bo Weevil's online marketing campaign. 
Evalien Ruiter                  
Photographer fabrics: https://www.facebook.com/evalien.ruiter

Mireille Wieggers
Photographer garments: https://www.facebook.com/mireille.wieggers
 
Jacob de Baan
Corporate style:  www.jacobdebaan.com